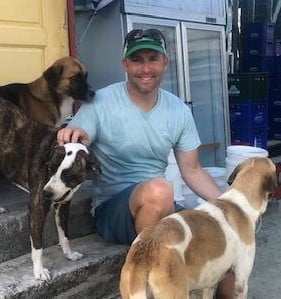 Eric Patrin
DVM, Owner
Years in Practice: 14
Dr. Patrin is a native of Shelburne, Vermont, and followed a winding road to Whidbey Island. He received his B.A. in International Relations with a minor in Russian language and literature from the University of Minnesota in 1996. After a short stint in the "real world", Dr. Patrin left Minneapolis for San Diego, CA to pursue the biology courses needed for entry into Veterinary school. After completing a B.S. in Biology from San Diego State University in 2002, he was admitted to Iowa State University's College of Veterinary Medicine. After graduating from Veterinary school in 2006, a promising opportunity surfaced in Oak Harbor, WA.
Dr. Patrin became familiar with the South Whidbey Animal Clinic (SWAC) as a relief veterinarian for Dr. Robben Jones. Dr. Patrin, wanting to own his own clinic pursued an ownership opportunity in Vermont in November 2008. But, fate brought the family back to Whidbey Island in May 2010 to purchase SWAC.
Dr. Patrin has three awesome kids all in the South Whidbey schools, and a wild border collie mix named Cali.
Robert Jung
DVM
Years in Practice: 12
South Whidbey Animal Clinic is excited to introduce Dr. Robert Jung to our team! Dr. Jung is a classmate of mine and a good friend. He graduated from Iowa State University in 2006, where he was very involved with student clubs and leadership. We are very excited that Dr. Rob has a special interest in exotic pets such as reptiles and small mammals. In addition to exotics, he has 10 years of experience working in emergency practice and many years as a commissioned officer at Presque Isle Downs race track.
Dr. Rob was a competitive swimmer at Luther College and has been head coach at St. Jude's swim team in Erie, Pa. Rob is an avid biker, swimmer, runner and has competed in The Ironman Triathlon Series.
When not at work, Dr. Rob is spending time with his wife Cara, and their three children; Rowan, Stella, and Ryker. The Jung family is very excited to be here on Whidbey and explore all that the northwest has to offer!
Jayne McKelvy
DVM
Years in Practice: 20
Before becoming a veterinarian, Dr. McKelvy utilized her bachelor's degree in accounting from the University of Washington as a supervisor for the OEM Accounting Group at Microsoft. She was raised on a dairy farm in Skagit County and had multiple 4-H projects with animals including dairy goats, dairy cows, horses, and dogs. It was not long before she decided working with animals was her true passion and calling. Dr. McKelvy began taking night classes while still working full time, determined to fulfill her dream of becoming a veterinarian and getting back to what she loved.
In 2002, Dr. McKelvy's hard work and perseverance culminated in her graduation cum laude from Washington State University School of Veterinary Medicine. Her special veterinary interests include dentistry, pain management, and geriatric care. She loves helping people keep their pets with them, healthy and comfortable, for as long as possible.
Dr. McKelvy has a particularly special love for herding breeds and has been active in training working sheepdogs and competing in herding trials with her Australian Kelpies over the years. Currently living on a small acreage near Oak Harbor with her husband and their various critters, including dogs, cats, horses, sheep, chickens, and ducks, she uses her skills and compassion for your pets as well as her own. When there is time in her busy schedule, Dr. McKelvy enjoys trail riding with her horses on all the wonderful trails Whidbey has to offer and has recently rediscovered love and talent for art, spending time drawing and painting – mostly animal portraits!
Laura Babaidhan
Practice Manager
Years in Practice: 4
Laura has been with South Whidbey Animal Clinic since January 2017. She is a student at the University of Washington (Go Dawgs!) and mama to two beautiful girls, a Goldendoodle named Murph, and their rescue dog, Finn. What she loves about this practice is warm, welcoming atmosphere and getting to know our clients and their pets. She always looks forward to seeing all the familiar faces (and tails) and meeting new ones. We are here to help!
Sabra Whitlock
Veterinary Assistant
Years in Practice: 5
Sabra has worked at SWAC for 3 years now as an assistant/technician. She grew up in Edmonds and has worked in the pet industry since 1998. Sabra moved to Whidbey about 8 years ago and has a goal of owning property and horses.
Marissa Conlin
Veterinary Assistant
Years in Practice: 2
Marissa Conlin and her husband moved from Georgia to Whidbey Island in 2013 and have been coming to South Whidbey Animal Clinic for the care of their two dogs; Khali and Diesel. She joined the SWAC Team in March 2018 and loves being able to take care of pets.